The Program in Molecular Biophysics application deadline is December 1st.
We encourage applications from students who have majored in biology, chemistry, engineering, mathematics, and physics, although more diverse backgrounds in related disciplines are welcomed as well.
Promising applicants will be invited to a visiting weekend in January to meet with faculty on both campuses, talk with students, and have a look around Baltimore.
How to Apply
Use the Johns Hopkins University online application.
Select Biophysics under the School of Arts and Sciences.
Upload an official transcript and provide email addresses for three letters of recommendation.
Detailed instructions on how to apply can be found on the Graduate Admissions website.
Requirements
U.S. citizen or permanent resident
Statement of purpose
Three letters of recommendation
Transcripts
The GRE is not required.
Timeline
Application deadline: December 1st
Visiting weekend invitations sent: December 2023
Visiting weekend: January 2024
Offers of admission made: February 2024
Non-U.S. Citizen and Non-U.S. Permanent Resident Applicants
A training grant from the National Institutes of Health provides the first two years of tuition and stipend support for graduate students in the Program in Molecular Biophysics. However, this support is limited to U.S. citizens and U.S. permanent residents.
Non-U.S. citizens and non-U.S. permanent residents interested in graduate studies in Molecular Biophysics should consider applying to the T.C. Jenkins Biophysics Department.
Financial Aid
All PMB students who are U.S. citizens or permanent residents receive full financial support including tuition, health insurance, fees, and a 12-month stipend. The stipend amount for the 2023-2024 year was $37,600.
Assuming satisfactory progress toward the PhD, students may expect continued support of tuition, health insurance, and stipend through at least six years of graduate study.
Funding is provided by an NIH training grant that is restricted to U.S. citizens and permanent residents. International students must have funding from their own governments or a formal agency.
Students are encouraged to apply for external sources of funding such as National Science Foundation Predoctoral Fellowships, NIH Predoctoral Fellowships to Promote Diversity in Health-Related Research, and the Association for Women in Science Predoctoral Awards. Students accepted in the Program in Molecular Biophysics have an excellent record of success in pursuing these opportunities.
Vivien Thomas PhD Scholars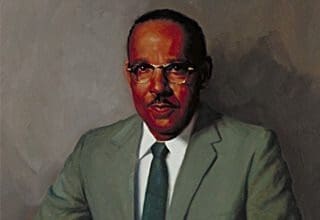 The Vivien Thomas Scholars Initiative (VTSI) is a new endowed fellowship program at Johns Hopkins for PhD students in STEM fields. It provides full tuition, stipend, and benefits while also providing targeted mentoring, networking, community, and professional development opportunities. Students who have attended a historically black college and university (HBCU) or other minority serving institution (MSI) for undergraduate study are eligible to apply. More information about the VTSI program is available on the Provost's website. To be considered for the VTSI, all application and supplementary materials must be received by December 1st.
Accessibility
While there is not a requirement to disclose a disability prior to admission, applicants with disabilities who would like more specific information or assistance with the application process can contact Dr. Karen Fleming. In conjunction with the Johns Hopkins Student Disabilities Services office, our program provides accommodations and services such as sign-language interpreters, assistive technology, and physical accessibility, among other accommodations and services. For students for whom travel is a hardship, we can provide online interviews, video feeds of our visiting weekend events, and virtual tours of our facilities. Potential applicants can also meet us online in the fall, where we participate in a "BioMed Virtual Graduate Fair" to enable prospective students to learn about our program.
Resources for Prospective Students
---